Apartments near Tower Bridge: cheap accommodation in central London
Among the great architectural landmarks of London, undoubtedly the Tower Bridge is one of the most recognizable and iconic of this important city. More than a century old, it crosses the Thames at the height of the Tower of London, home of the jewels of the British crown. Its two large towers are an unmistakable symbol of the capital of England and the experience of crossing it and appreciating the unique landscape it offers is a must for locals, and tourists alike. Don't forget to bring your camera!
This bascule bridge was built in the 19th century, and was designed with a lifting system so as not to interrupt the access and exit of the ships from the Port of London. The design of this structure was made by Horace Jones, who served as the City's Architect at that time. The structure is 244 meters long and 7 meters wide, while its two showy towers are both 65 meters high. The two large halves of the bridge take only a minute to make the movement of more than 80 degrees, needed to allow river traffic, although each of the parts weighs more than 1000 tons. The steps for passers-by and the engine room of the Victorian era make up a permanent exhibition that visitors can access by paying a fee. The visit is royally interesting and worth it.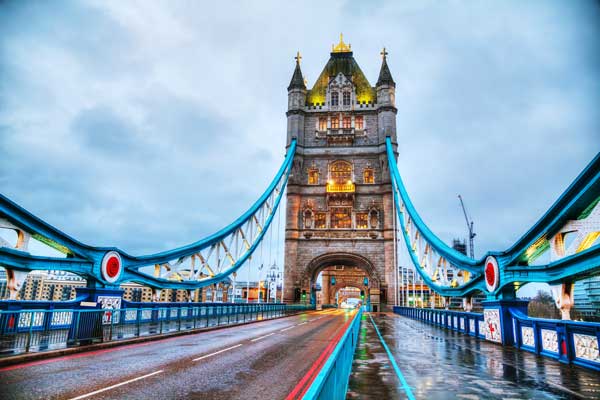 Accommodation near Tower Bridge
London is undoubtedly one of the greatest tourist attractions in the world. Culture, history, nightlife, finance, music, theatre and royalty, among many other things join in this huge metropolis. Thanks to the large influx of visitors who visit it every year, you can find all types of accommodation in London, such as luxury hotels, youth hostels, guest houses, bed and breakfast and much more. If you want to live the London experience to the fullest, with independence and privacy, we recommend renting an apartment. In the vicinity of the Tower Bridge you will have access to a lot of attractions. It is a central point of the city from where you can easily move to any point you want. In Only-apartments we have a large number of apartments for rent in this area. We have single-room studios and one, two and more bedroom apartments. Find what best suits your needs in our vast catalogue. All our apartments are fully furnished and equipped so you can get the most out of your stay in the British capital.
Places to visit near Tower Bridge
Tower of London. It is a historic castle located on the north bank of the Thames. It had different functions throughout its history, such as prison, armoury, treasury, public registry house, and royal residence. Today, this beautiful castle is home to the crown jewels, a striking display of more than 23,000 precious stones that are still used today in royal ceremonies.
London City Council. Known in English as "City Hall", this modern building stands out in all the aerial views of the city for its unusual design. Designed by Norman Foster and inaugurated in 2002, it is the building where the central administrative activities of the city are carried out.
White Cube. If you are a lover of contemporary art, you should definitely visit the White Cube gallery. In the big showrooms you can find here some of the most current and disruptive artists in England, such as Etel Adnan, Martin John Callanan, Jake and Dinos Chapman, Antony Gormley and Tracey Emin. The museum's collection has paintings, engravings, sculptures and installations.
Maltby Street Market. If the day is peaceful and you want to go to a place that many tourists do not know, we recommend a site near the Tower Bridge that will leave you more than satisfied. It is the picturesque market of Maltby Street, located in Bermondsey. In it you can find antiques, food and drinks stands, restaurants, etc. This beautiful walk is open on weekends and is ideal for touring with family or friends.
Fashion and Textile Museum. If you are interested in fashion, the fashion and textile museum in London is a must-see destination in your visit to this cosmopolitan city. It was founded by the British designer Zandra Rhodes, and has temporary exhibitions. In addition, courses are given for all ages and professional profiles.
London Glassblowing. Founded in 1976, this iconic home of blown glass stands out for the particular style of the crystal objects it produces. The entry is free. There, visitors can learn about the wonderful, and colourful art of glass blowing from the hand of the great masters in this ancient technique.
Potters Fields Park. To appreciate the view of the Tower Bridge and the London City Hall, and rest after a long walk, we recommend relaxing at Potters Fields Park. Sometimes it hosts small outdoor culinary festivals and other similar events.
How to get to Tower Bridge
Since it is located in a central point of the city, getting to the Tower Bridge is not complicated. London has a very complete metro network. In addition to an immense network of buses (the famous red of two floors) and tourist transports. Underground stations (the London metro, colloquially called "tube") closest to Tower Bridge are Tower Hill (Circle and District lines), London Bridge (Jubilee and Northern lines) and Bermondsey (Jubilee line). If you travel on Docklands Light Railway (called DLR, by its initials), the nearest station is Tower Gateway. By train on the other hand, the nearby stations are Fenchurch Street and London Bridge. The opening hours of the bridge for tourist visits are usually from 10:00 to 17:30 and open every day, with few exceptions. The admission prices for adults are around 10 pounds sterling.