Apartments near Notre Dame: Accommodation in the best area of Paris
Paris is a dream for many travellers. It is a city with a romantic image that lives up to its reality and its history. With its beautiful River Seine, its cobblestone streets, its old buildings and its picturesque cafés, this city is ideal for romantics. More than 40 million tourists visit it every year, which makes it the most popular tourist destination in the world. In addition, it stands out not only for its continuous and constant affluence of tourists from all over the world, but it is a very important financial capital, of art, of fashion, of shows, gastronomy, education and culture in general While the Eiffel Tower is its unmistakable symbol, there is a historical construction that could be described as one of the most iconic of the "City of Light". It is the stunning cathedral of Notre Dame. The Arc de Triomphe, the Pantheon, the Arc de la Défense, and the Louvre are must-sees for anyone visiting the city.
This great Catholic cathedral was built in Gothic style between 1163, and 1345. Its name means, in French, literally "Our Lady", since it is dedicated to the Virgin Mary. It is located in an area of the city called "Île de la Cité" and is surrounded by the Seine River. This cathedral, as a central point in the heart of Paris and a symbol of Catholicism, was often at the centre of the city's history. During the French Revolution, for example, several elements of the cathedral were destroyed and some of its treasures were stolen. A few years later, Napoleon Bonaparte proclaimed himself as the emperor in this cathedral. In addition to its historical and monumental importance, the cathedral is famous in popular culture for the famous character of Quasimodo, the person in charge of ringing his bells who falls in love with the gypsy Esmeralda. These characters were created by Victor Hugo in his romance Our Lady of Paris in 1831. The story was popularized by Disney in an animated film, opening the church's architecture, towers, gargoyles, and bells to the popular imagination of the whole world. Since it is a must-see, and it is located in a central point of this incredible city, we recommend renting an apartment in the area of the Notre Dame Cathedral.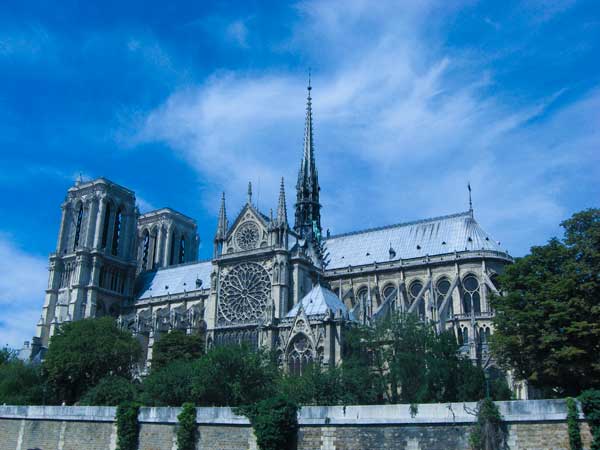 Accommodation near Notre Dame
The area where the Notre Dame Cathedral is located is one of the most picturesque of Paris. In addition, due to its central location, you can reach most of the most important attractions of the city on foot or by public transport. Paris, as we said before, has an unprecedented number of tourists: 40 million per year. This is a world record, since no other city receives this number of visitors. Thanks to this continuous flow of people, you will find a more than varied accommodation offer in Paris. There are hotels of one, two, three, four and five stars, in addition to numerous hostels for young people who prefer to pay less, even though they must share the room, with other travellers. If you prefer to enjoy your holiday at your own pace, we recommend renting an apartment near Notre Dame. Hotels and hostels have not only shared spaces, but also many restrictions (for example, with breakfast). In your own fully equipped apartment you will be able to cook whatever you want, whenever you want. In addition, you will have absolute privacy. At Only-apartments we have apartments distributed throughout Paris for all tastes and prices. We have studios for one or two people or larger apartments, with one or several rooms. Check out our catalogue and choose the one that best suits your wishes, your needs and your budget.
Places to visit near Notre Dame
Archaeological crypt of the island of La Cité. This excavation is located right in front of the Notre Dame Cathedral. In it you will find the remains of different eras, such as the middle Ages and the nineteenth century. The visit lasts between half an hour, and an hour and a half, and you can do it with or without a guide. The route has signage and reconstructions.
Shakespeare and Company. It is probably one of the most famous bookstores in the world. In addition to being a bookstore, it works as a specialised library in Anglo-Saxon literature. In addition to this, the place can accommodate tenants on its first floor. They work in the premises in exchange for accommodation, and experience.
Source Saint-Michel. Located in the Latin Quarter, it occupies one of the faces of a six-story building. It is 26 meters high and 15 meters wide and its allegorical statue, representing the struggle between good and evil in the form of the archangel San Miguel subduing the Devil, is the work of Francisque Duret. In addition, there are two dragons made by Henri-Alfred Jacquemart, and four bronze statues representing the four cardinal virtues: temperance, justice, prudence and strength.
Pompidou Centre. Just a fifteen-minute walk from Notre Dame, you can access the wonderful Georges Pompidou art centre. The place stands out not only for the unusual architecture of its building, but also for its exhibitions and its collection of more than 100,000 works of modern and contemporary art.
How to get to Notre Dame
The cathedral is located in a very central point of the city, making it easy to walk from many places. However, if you prefer to take public transport, the nearest metro and train stops are Hôtel de Ville, St-Michel and Cluny-La-Sorbonne. If you want to travel by bus, those that will leave you near the cathedral are lines 24, 25, 27 and 96. The church opens every day, and admission is free. You only have to pay if you want to visit the towers or if you want to take a guided tour.