Apartments near Central Park: The heart of New York
New York is, without a doubt, the maximum expression of urban life, and interculturality. Not only is it an important financial and commercial centre at the global level, but also it concentrates artistic, political, literary, musical, theatrical, and gastronomic expressions, among many others, of the most varied. With its large number of important buildings and its unique urban design, New York is particularly interesting for those interested in architecture, monuments and urban landscapes. Among its great landmarks in height, you will find very famous buildings, such as the Empire State Building, the Statue of Liberty and the World Trade Centre. We can also find a green lung that ends up giving that unique touch to the city: Central Park.
This huge rectangle of about 4,000 meters long and 800 meters wide is the heart of Manhattan and is visited by millions, and millions of tourists every year, as well as being a place of rest and activity for the local inhabitants. Within the park there are several gardens, two ice skating rinks, a zoo, a botanical garden, several lagoons (an artificial lake of 42 hectares), a running track, a swimming pool, several tennis courts, a Victorian castle that operates as an observatory (the Belvedere Castle), dozens of sculptures, several fountains, hundreds of thousands of trees and all kinds of birds, squirrels, fish, rabbits, and other small animals. In addition to this there are activities such as outdoor concerts, film screenings, plays, artists, painters, and shows with puppets for children.
If you are going to visit New York, you should visit central park more than once. We recommend renting an apartment near Central Park to make the most of this iconic space of the most popular city of Western culture.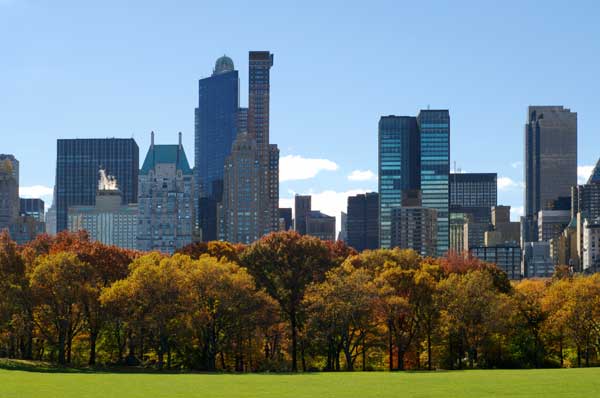 Accommodation near Central Park
In New York you will undoubtedly find one of the widest, and most varied accommodation offers in the world. All kinds of hotels of any number of stars can be found in the skyscrapers. You will find from noisy youth hostels to famous luxury hotels that you may have seen in the movies. However, if you want to make the most of your stay in this unique city, we recommend renting an apartment. In your own equipped and furnished apartment, you will have unique independence, and comfort, of which you will never enjoy in a hotel or hostel. In addition, you can live the New York experience to the fullest, as you see it on television, and in your favourite films. At Only-apartments we have a complete catalogue of fully furnished and equipped apartments in New York, especially in the area of the famous Central Park. We have all sizes and styles, so you can choose the one that best suits your tastes and needs.
Places to visit in Central Park
Belvedere Castle. This beautiful Victorian building dates back to 1865, and offers one of the best panoramic views from Central Park, as it is located at its highest point. Meteorological activities are carried out within its Observatory, in addition to having areas dedicated to the flora and fauna of the park.
Shakespeare in the Park. For lovers of classical theatre, Central Park offers unmissable plays of the great English playwright. If you prefer this option to the classic Broadway theatres, you will not be disappointed. The only downside is that there is usually a long queue to get tickets, since these shows are very popular among locals and visitors.
Ice-skating. You can find two ice skating rinks in the park. The two tracks, called Lasker and Wollman, operate outdoors in winter, both day and night. It is an ideal activity for couples or families, and you can rent equipment.
Loeb Boathouse. If the day is peaceful and the best option is an outdoor activity, then perhaps you should consider spending the day on the water. In this boat rental house you can get a rowing boat, rent a gondola tour in Venetian style or even have a drink while you see the lake from the shore. It is a very picturesque place that appears in several New York movies.
Central Park Zoo. Inside this great zoo, located inside the park you can find more than 130 different species of animals. Access is through 64th Street. Its history dates back to 1860, when it opened as a "menagerie"; however, it has undergone several renovations since then, up to its current design.
Literary Walk. This "literary walk" is a series of sculptures that are displayed in a specific area of the park. The name comes from the sculptures of writers such as Fitz-Greene Halleck, Robert Burns, Sir Walter Scott and William Shakespeare. In addition there are other sculptures of other historical figures, such as Christopher Columbus.
Ride in carriage. If you are already tired of walking, and you want to go around the park in a calm and romantic way, do not forget that there are a lot of horse-drawn carriages that circulate every day. The walks usually last about an hour and the drivers play the role of guides, telling you the history and particularities of the most emblematic sites of the park while you visit them.
How to get to Central Park
Central Park, as its name indicates, is located in the very centre of Manhattan. Adding that to the enormous surface it occupies, we can ensure that all roads lead to it. The park takes from 59th Street to 110th Street, and from Central Park West to the famous Fifth Avenue. Nearly all the underground lines, and many urban and tourist buses pass through the park.